THE CRC LEME LEGACY -
EXPLORERS' GUIDE SERIES
A guide for mineral exploration through the regolith in the Curnamona Province, South Australia
Adrian Fabris, Malcolm Sheard, John Keeling, Steven Hill, Ken McQueen, Colin Conor and Patrice de Caritat
Email: Fabris.Adrian@saugov.sa.gov.au
Email: Sheard.Malcolm@saugov.sa.gov.au
Email: Keeling.John@saugov.sa.gov.au
Email: Steven.Hill@adelaide.edu.au
Email: Ken.McQueen@canberra.edu.au
Email: Conor.Colin@saugov.sa.gov.au
Email: Patrice.deCaritat@ga.gov.au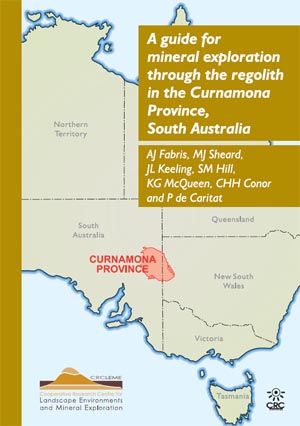 This Guide is designed to assist mineral explorers working in regolith-dominated regions of the Curnamona Province. Although the information presented may be applied across the Curnamona region, the focus is on the southern Curnamona Province where there has been the greatest number of regolith studies.

The Guide provides an introduction to the regolith and landscape history of the area, as well as advice on appropriate exploration strategies and techniques for exploring through, and within, the regolith. The information presented here is based on current knowledge and best practice, but the Guide is not meant to be a foolproof manual for exploration success.
The Curnamona Province has a long history of exploration following on from the discovery of the world-class Broken Hill Pb–Zn–Ag deposit in 1883. Numerous mineral occurrences have been located throughout the district. The majority of exploration and subsequent discoveries, however, have been made in and around bedrock exposures, which account for less than 10% of the landscape. The major challenge facing exploration in the region is exploring effectively through thick transported regolith. Although large areas are beyond explorable depths–with more than 1 kilometre in thickness of sediment cover–there are extensive areas where predicted depth to bedrock is less than 100 metres. Around bedrock inliers, sediment thickness may decrease to less than 1 metre, but, even here, the thin cover is usually comprised of distally transported deposits. Mineral exploration approaches need to be able to penetrate sediment cover and weathered bedrock to effectively explore within, or through, the regolith.
Download the guide and appendices:
Appendix 2 - Curnamona Province regolith tour guides:
Appendix 3 - 3D model of the sedimentary cover of the Curnamona Province
Appendix 4 - Regolith-landform maps of the Curnamona Province
Appendix 5: Case studies
Appendix 6: Recommended sampling procedures
Appendix 7: Drilling and sampling the regolith (189 Kb)
Appendix 8: Quality assurance and quality control (153 Kb)
INFORMATION ON THE OTHER REGIONAL GUIDES IN THE SERIES