Regolith '98: New Approaches to an Old Continent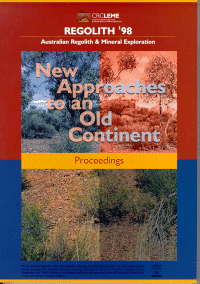 Regolith '98: New Approaches to an Old Continent is the proceedings of the conference held at Kalgoorlie in May 1998 by the Cooperative Research Centre for Landscape Evolution and Mineral Exploration (CRC LEME).
The conference was attended by over 200 delegates from industry, government and academic organisations. It was the third in a series of conferences preceded by Regolith '94 in Broken Hill and Regolith '96 in Brisbane.
The Conference was designed to put into the public domain, new research and concepts developed over the last five or so years in contrast with Regolith '96 that summarised the state of the art up to then. To this end the conference had 36 oral presentations and 29 poster presentations, 28 of which are published here in full, edited by Professor Graham Taylor and Dr Colin Pain.
Regolith '98 received some 60+ abstracts for presentations and posters indicating an increasing interest in the regolith conferences from industry in particular. These Proceedings cover many aspects of landscape and regolith genesis and their application to minerals exploration.
Download Program, Abstracts and Author Index volume (2.3 Mb)
Download Field Trip Guide (compiled by I.D.M. Robertson) (2 Mb)
Download Individual Papers: