THE CRC LEME LEGACY -
EXPLORERS' GUIDE SERIES
A guide for mineral exploration through and within the regolith in the southwestern Thomson Orogen, New South Wales
Steve Hill, John Greenfield, Phil Gilmore and Bill Reid
Email: Steven.Hill@adelaide.edu.au
Email: John.Greenfield@dpi.nsw.gov.au
Email: Phil.Gilmore@dpi.nsw.gov.au
Email: William.Reid@dpi.nsw.gov.au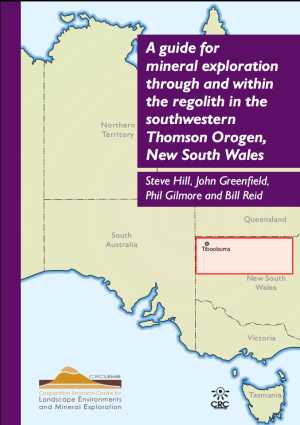 This Guide is designed to assist mineral explorers working in the regolith-dominated terrains of the southwestern Thomson Orogen in far northwestern NSW-in particular the Tibooburra-Milparinka area. Although it is hoped that information presented in this Guide may also be applicable across the Thomson Orogen and adjoining regions, it should be noted that the focus on the Tibooburra-Milparinka area of far northwestern NSW reflects:
The concentration of geological and regolith studies and mapping within this area;
The area's known mineralisation;
that the remainder of the Thomson Orogen region is relatively unknown.
The guide provides an introduction to the regolith and landscape history of the region, together with advice on strategies and methods that can assist with exploration for mineral deposits within and through the regolith. The information presented here is based on current knowledge and known best practice, but does not provide a guarantee of exploration success. Much of the data and knowledge presented here have been developed as a result of research and mapping programs in the region between 2001 and 2007 conducted by the Cooperative Research Centre for Landscape Environments and Mineral Exploration (CRC LEME) and close core participant collaboration between the University of Adelaide and the New South Wales Department of Primary Industries (NSW DPI) geological mapping program.
Download the guide and appendices:
Download the whole package (164 Mb ZIP file)
INFORMATION ON THE OTHER REGIONAL GUIDES IN THE SERIES