atlas of regolith materials of the northern territory
Open File Report 196
Ian Robertson, Mike Craig, Ravi Anand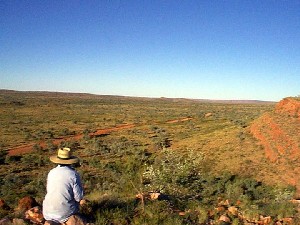 An output of a Program 1 collaborative project between CRC LEME and the Northern Territory Geological Survey (NTGS). (more detail under Research - Program 1 - NT Regolith )
Launched at the 2006 Annual Geoscience Exploration Seminar in late March, the Atlas of Regolith Materials of the Northern Territory contains new information about the wide variety of regolith materials and landforms found in the Northern Territory.
The Atlas is the first comprehensive regolith atlas of any Australian State or Territory, and accompanies the Northern Territory 1:2,500,000-scale Regolith-landform Map also produced by CRC LEME and the NTGS.
Taking almost three years to complete and featuring more than 600 colour photographs, as well as geochemical data tables and particle size distribution diagrams for major regolith materials, the Atlas will assist mineral explorers and natural resource managers in their recognition and understanding of NT regolith materials.
Steve Rogers, CRC LEME Chief Executive Officer, said the more pre-competitive information that allows mineral explorers to understand the make up of the landscape in terms of its regolith geology, the more chance they have of finding prospective ground.
Download - NT Government Media Release - NT Atlas gives clue to valuable mineral deposits
The Atlas and Map were launched at the Australian Geoscience Exploration Seminar (AGES) held Alice Springs, 28-29 March 2006. Project Leader Mike Craig gave a presentation at the launch:-
Northern Territory Regolith-Landscape Framework

Mike Craig - CRC LEME/Geoscience Australia - mike.craig@ga.gov.au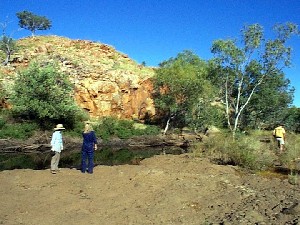 Free digital copies of the ATLAS can be downloaded here from the NORTHERN TERRITORY GEOLOGICAL SURVEY SITE ( http://www.minerals.nt.gov.au/ntgs ).
Hard copies of the ATLAS can be purchased from CRC LEME for $90 plus $11.55 P&P Aust (incl GST).
View the Abstract.
Download an order form here: http://leme.anu.edu.au/Pubs/orderforms.html ).
Copies of the NT REGOLITH MAP can be ordered via email: geoscience.info@nt.gov.au or telephone: (08) 8999 6443. Feel free to download a .jpg picture of the Map [5MB]