the BUTT-SMITH MEDAL
Dr Nigel Radford is the 2008 winner of the Butt-Smith Medal
- for outstanding and sustained contribution linking regolith science to exploration in Australia
Presented at the Australian Earth Sciences Convention Dinner, 23 July, by Dr Mike McWilliams, Chief CSIRO Exploration and Mining and Dr Steve Rogers, CEO CRC LEME.
CSIRO Media Release, 24 July 2008
Initiated in 2004 by CRC LEME and CSIRO Exploration and Mining, the Butt-Smith Medal recognises and honours the significant contribution of Dr Charles R M Butt and Dr Raymond E Smith to research and development related to the mineral industry in Australia through their lifelong association with CSIRO and CRC LEME. The work they pioneered in the early 1970s and developed with colleagues is widely credited as having contributed to several successful exploration programs in the 1980s and 1990s.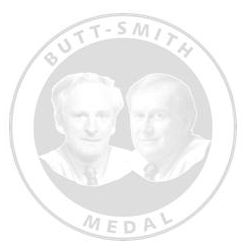 The Butt-Smith Medal is awarded every two years and attracts a $15,000 grant. The recipient gives a Commemorative Address on the cope of his/her work, and other presentations on opportunity around Australia.
The 2006 Medal was won by Dr Ravi Anand
The 2004 / inaugural Medal was won by Dr Richard Mazzucchelli
(For information only - 2008 Nomination form and selection criteria)