CRC LEME HONORARY FELLOWS
LEME Honorary Fellowships are awarded by the Board in recognition of outstanding contributions to the development and promotion of Regolith Science
The Awards are in the form of embossed and engraved jarrah plaques. Sixteen Awards have been presented thus far by Mr George Savell, Board Chair.
Two Awards were made in September 2006:
Dr R Dennis Gee
Dr David Garnett
DR R DENNIS GEE
Dennis is continuing a distinguished career as a mineral explorationist both within the industry and government instrumentalities.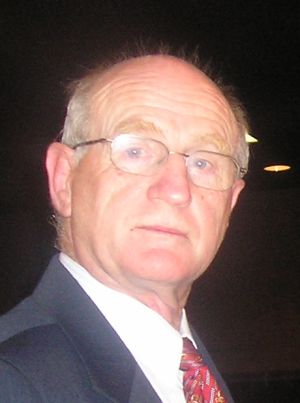 After the conclusion of his contract and his 'retirement' as CEO of CRC LEME, Dennis retained his interests with CSIRO Exploration and Mining as a Honorary Research Fellow for three years. He continuing his 'career' is an exploration contractor work in South America.
Dennis was appointed as CEO of LEME in 2002, after completing a four-year contract as Director of the Northern Territory Geological Survey, in the course of which he implemented the Government funded Exploration Initiative, and brought NTGS to a premier geological survey. Prior to that Dennis was MIMEX Exploration Manager for Western Australia directing gold and base metal exploration. This was his second stint with MIM, having been a Kalgoorlie-based exploration geologist for Carpentaria Exploration Company in the days of the nickel boom. Prior to MIMEX he was Exploration Manager and Technical Director of Reynolds Australia Metals, which at one time was Australia's fifth largest gold producer -drawing from Boddington, Mt Gibson and Marvel Loch.
Dennis guided the LEME Executive and their Project Teams with skill and understanding, combined with an enormous breadth of knowledge. He ensured LEME resources (human and monetary) were utilized to maximum capacity to expand the effectiveness and influence of regolith geoscience worldwide.