CRC LEME HONORARY FELLOWS
LEME Honorary Fellowships are awarded by the Board in recognition of outstanding contributions to the development and promotion of Regolith Science.
The Awards are in the form of embossed and engraved jarrah plaques. Sixteen Awards have been presented thus far by Mr George Savell, Board Chair.
Two Awards were made in September 2006:
Dr R Dennis Gee
Dr David Garnett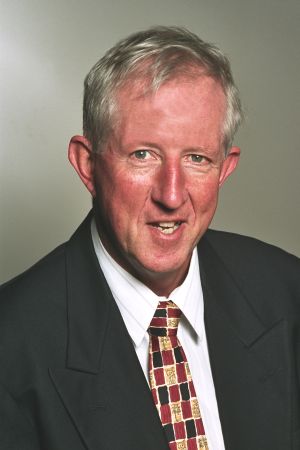 DR DAVID GARNETT
David has been associated with LEME since its inception in 1995 as a Board Member - as Deputy Board Chair and Chair of the LEME Minerals Advisory Council. In this latter role he has been very effective in facilitating a positive and mutually beneficial interaction between the LEME regolith geoscience researchers and the minerals exploration stakeholders. The Minerals Advisory Council, led by David, has influenced regolith research direction over the years contributing towards the excellent results being achieved via the multi-disciplinary research projects. From 1987 to 2004 David was General Manager of Becqueral Laboratories in Sydney and contributed significantly to the development of mineral exploration techniques and analysis in Australia. David has always had a particular interest in regolith geoscience as an aid to mineral exploration, as evidenced by his PhD Thesis - Element dispersion patterns in selected areas of southern Africa as a guide to base metal mineralisation. This focussed on element dispersion processes in semi-arid weathering environments, particularly in the regolith around and above base-metal deposits in calcrete covered areas.
David is a member of a number of professional associations, passing on his knowledge through these forums, including Fellow - Association of Exploration Geochemists, Australian Institute of Geoscientists, Geological Society, and Member - Institute of Materials, Minerals and Mining, Australasian Institute of Mining and Metallurgy, International Association of Geoanalysts.