Dr Ian Roach
Program Leader: Education and Training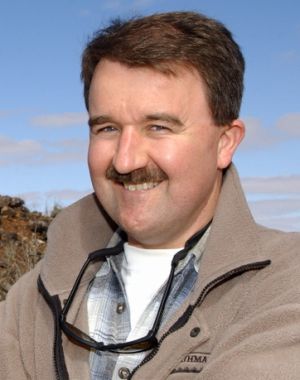 MTEC Lecturer
Dept Earth & Marine Sciences
The Australian National University
Canberra ACT 0200
Email: ian.roach@anu.edu.au
Tel: 02 6125 0030
Research interests
Landscape evolution studies of Eastern Australian Cainozoic volcanic provinces, remote sensing of regolith using multispectral/hyperspectral imagery, GIS and regolith mapping, thermobarometry of mantle inclusions in Cainozoic volcanics with relevance to landscape evolution and palaeogeotherms, mineral exploration in central west and western NSW.
Continuing research projects in and around:
• The Monaro region of southeastern NSW
• Broken Hill and the Curnamona Province
Teaching Skills
Coordinate MTEC (MCA) Honours and Masters program for CRC LEME since 2001. Develop, deliver, coordinate Honours- and Masters-level short courses and educational material for academia and industry, including:
• Regolith Geology and Geochemistry (Honours, with Steve Hill and Mehrooz Aspandiar, held at Wilsons Promontory, Victoria)
• Regolith Mapping & Field Techniques (Honours, with Steve Hill and Karen Hulme, held around Broken Hill)
• Regolith Geology and Mineral Exploration (Masters, with numerous CRC LEME staff and associates, held in Kalgoorlie (2001), Canberra (2002) and Broken Hill (2003))
• Develop a new coursework MSc degree at ANU "Master of Regolith Geoscience"
• Course convener and casual teaching in undergraduate regolith studies units at ANU.
Consulting
• Ongoing comment on volcanology and economic mineral resources of Monaro Volcanic Province , SE NSW
Other
• Co-supervise 8 CRC LEME Honours students since 1999.
Education and Recent Employment
• Canberra Grammar School 1976-1981 HSC
• Canberra College of TAFE Geoscience Cert. 1983
• University of Canberra B App Sc 1990, Hons 1991
• University of Canberra PhD 1999
• Bureau of Mineral Resources, Geology and Geophysics, Technical Officer 1984-1993
• University of Canberra , Tutor & Casual Lecturer 1992-1997
• Australian National University , Research Officer 1998-2001
• MTEC/University of Canberra & ANU, Joint Lecturer 2001-2002
• MTEC/ANU, Lecturer 2003-
• CRC LEME E&T Program Deputy Leader 2002-2007
• CRC LEME E&T Leader Program 2007-