LEME UPDATES
November 2007
Professor Brad Pillans elected Honorary Fellow of the Royal Society of New Zealand
http://www.rsnz.org/news/releases/fellows2007.php
http://www.rsnz.org/members/fellows/personal/12041.php
"Election as a Fellow is a mark of high distinction, reflecting many years of dedication, creative thinking, and world-class research and innovation".
Congratulations to Brad Pillans, who has been associated with LEME for a number of years, currently leads the Geochronology Project and is author of LEME Special Volume Open File Report 189 - Regolith Geochronology and Landscape Evolution and the ever popular Regolith Dating Methods - which he intends to update and reissue.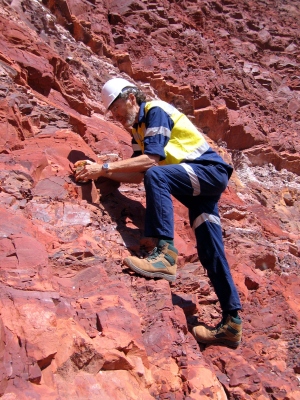 Bradley Pillans, a Professor in the Research School of Earth Sciences at The Australian National University, holds a pre-eminent position in the discipline of Quaternary stratigraphy (the study of sedimentary strata of the last 2.6 million years of Earth's history).
His major contributions have combined detailed field studies with laboratory-based dating techniques, to provide new insights into palaeoclimate, past sea level changes, earth deformation, long-term erosion rates, natural hazards, and landform evolution. His published work on the Wanganui Basin has resulted in the basin being recognised as a national and international reference site for Quaternary stratigraphy.